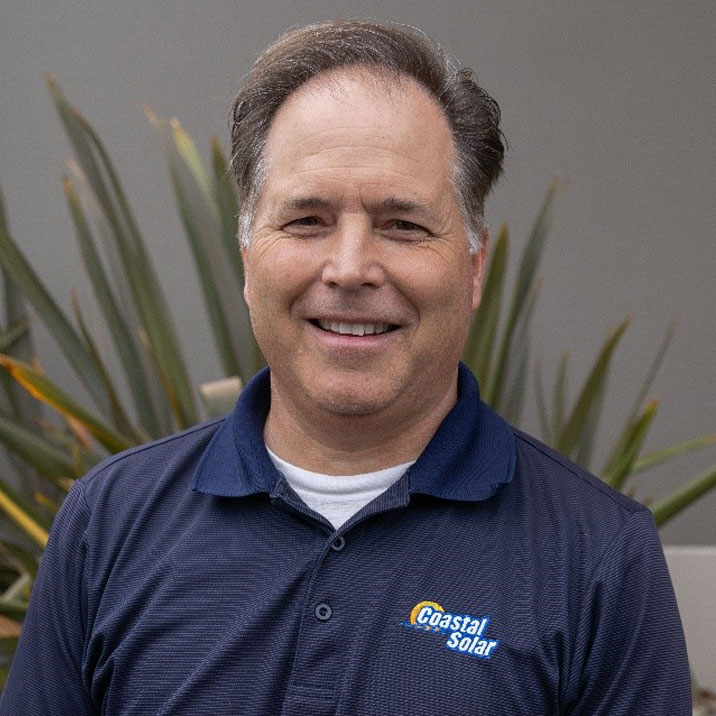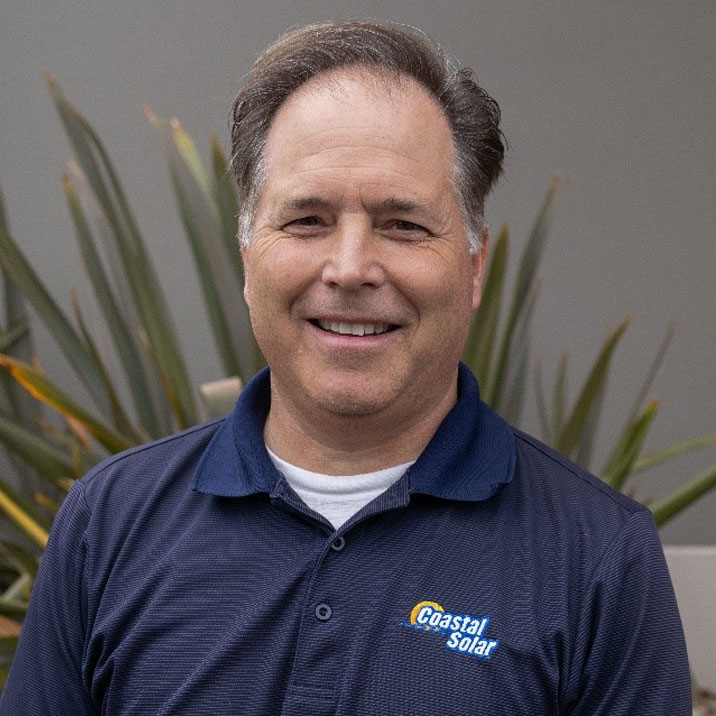 Matt Riege
Operations and Sales Manager
As our Operations and Sales Manager, Matt brings to the table 30 plus years of experience in the solar and electrical industries. Throughout the day he oversees all daily operations between the installation crew and homeowner. Matt is very hands-on and prides himself on developing long-lasting relationships with clients and creating momentum within the team.
As an integral part of the Coastal team, Matt is the point of contact to communicate with project managers and local City and County building departments to verify the installation is being performed to the current NEC and building codes. In addition to that, he is readily available by phone to discuss projects with prospective and current clients. His ability set realistic expectations and apprise the customer of current workflow and targeted work completion.
With his length of experience in the trades, he is able to get a clear perspective of any installation problems that might arise on a job and quickly find ways to troubleshoot them. Having these rounded skill sets and direct knowledge of installation practices and job management he can see the project from start to finish before our crew even begins the work.
Matt is a long-time resident of Ventura County and takes a great deal of satisfaction from helping his neighbors and local residents go solar. He is constantly running into our clients in the local coffee shops and grocery stores and enjoys catching up with them about how much they are saving each month with their solar installation, and marvel at their excitement when they see the So Cal Edison bill at ZERO.
Coastal Solar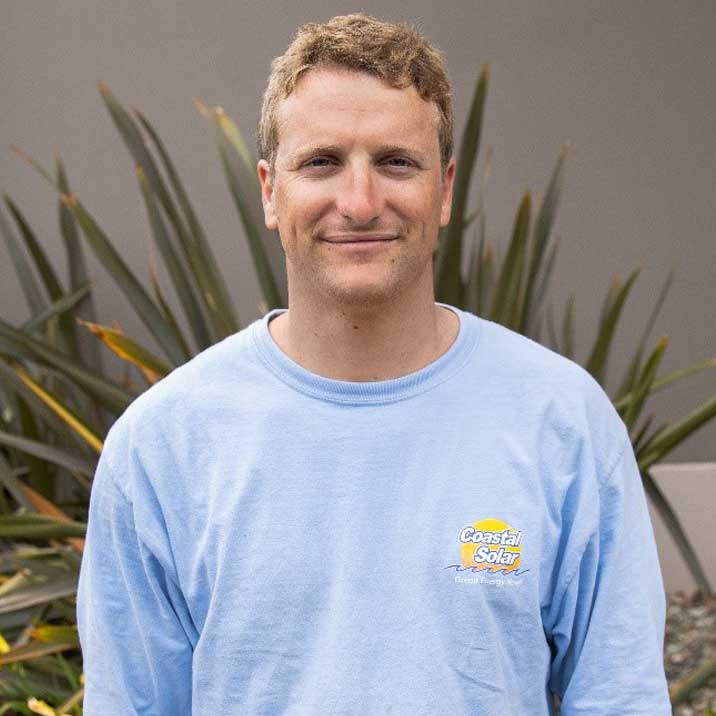 Jake Sessing
Lead Solar and Battery Installer
As our lead solar and battery installer, Jake has over 15 years of experience in the solar and electrical field. Jake takes pride in completing beautiful and clean installations. His desire to keep clear and consistent communication with out customers is what makes him a great addition to the team.
Jake came to us over two years ago and says, "I enjoy working for a family-owned business where quality and customer service are their number one priorities."
In his free time, Jake spends his time outdoors skateboarding or surfing at one of the amazing spots along the coast. His motto is, "Do what you love, and you won't work a day in your life."
Coastal Solar
Jon Nelson
Sales
When you think of going solar and making that first initial call to our office, you are likely to speak to Jon, an excellent member of our sales team. Jon has been with us for over four years and is incredibly detail-oriented.
With his BA in Communication, he is driven by his desire to provide every little detail to clients to give them peace of mind during each stage of a project.
As our dedicated Ventura Chamber of Commerce member, he strives to always find ways to support other local businesses and give back to the community in any way he can. He is a firm believer of first impressions, and we are certain you will enjoy his conversation.
Jon is proud to be part of a company that goes above and beyond for their customers. By adding in his ability to connect people, build relationships and add value to others, he makes a great addition to the team.
Coastal Solar
Taylor Alex
Inspections and Service Technician
Taylor came to us with a background in solar while living in Orange County. Now a Ventura resident he brings to the table many valuable skills that set us apart from our competitors. Taylor is proficient in reading blueprints, configuring array locations, wiring junction boxes, bending conduit and most importantly, ensuring the safety of our crew on each job.
As a student of LA Trade Tech College, Taylor will graduate in the spring of 2023 with two Associates Degrees and a multitude of certificates in the renewable energy field. Being the hard worker and quick learner that he is we can understand why he feels strongly about saving the planet by pushing for more renewable energy.
In his free time Taylor enjoys listening to music and off-roading with his fiancé. If you see Taylor on a job, be sure to say, "Hi!"
Coastal Solar
Kevin Harris
Electrical Apprentice and Battery Installer
Kevin is currently our Electrical Apprentice and Battery Installer. He came to us as a novice and says he has gained so much knowledge working with our team. He is extremely proficient at working with and communicating with our customers.
Kevin grew up and graduated high school in Ojai, California. He has a strong desire to gain more knowledge with all areas of solar electrical work and battery installation.
Kevin's favorite part of his job is that he gets to work alongside his best friend Jake, making them the dynamic duo. In his free time, he enjoys outdoor adventures such as skateboarding and dirt bike riding.
Coastal Solar